Journalism Undergraduate Scholarships
Benjamin J. Burns Endowed Scholarship for Excellence in Journalism: Jenna Prestininzi
This Scholarship honors and memorializes Wayne State University's long-time Director of the Journalism Program, and founder of its Journalism Institute for Minorities, now the Journalism Institute for Media Diversity. A career journalist-reporter, editor and publisher-Burns joined Wayne State's Journalism Department in 1988 and was director of the Journalism Program until his death in 2012. The Scholarship was initiated by his wife Beverly but is supported by many who admired and respected Ben Burns.
Jenna Prestininizi
Jenna Prestininzi is a junior print and online journalism major and Italian minor. She currently serves as Managing Editor of The South End and is the incoming Editor-in-Chief for the 2021-2022 academic year. Prestininzi has been involved at The South End since her first semester at WSU in fall 2019 and is passionate about informing the community on campus news. She is also a News Intern at WDET 101.9 FM, from January 2021 through summer 2021.
Her experience includes serving as Communications Director for a U.S. Congressional campaign and nonprofit freelance work. As a high school student, Prestininzi was a 2017 attendee of the Ralph Bunche Summer Institute at WSU, a 10-day immersion course of the Damon J. Keith Center and the Center for Peace and Conflict Studies. She enjoys travel, volunteering, reading, and playing violin in her free time. She also speaks fluent Italian and loves to visit her ancestral family home in Italy. Prestininzi is a member of the Journalism Institute for Media Diversity.
The Automotive Press Association - Al Vinikour Journalism Scholarship: Emily Crane
The APA was formed to provide a forum for automotive journalists, PR representatives and others to exchange information about the auto industry.  The APA established this scholarship in honor of Al Vinikour, an APA volunteer and longtime freelance automotive journalist who died in 2016.
This year's recipient is Emily Crane, a print and online journalism major who is minoring in media arts and studies. She is also the recipient of funds from the George M. and Mabel Slocum Scholarship in Journalism.
Michael Freedman Endowed Scholarship in Journalism: Camille Williams
This scholarship honors Michael Freedman, a Detroit native and graduate of Wayne State University who had a successful career in journalism and politics. He started in Detroit, where he was a reporter, anchor and news director. Freedman became general manager of CBS Radio Network in New York, managing editor of the Broadcast Division of United Press International, leadership press secretary to Michigan Congressman and House Majority Whip David Bonior, and a professor of journalism at The George Washington University.
This year's recipient is Camille Williams, a print and online journalism major who is minoring in design. She is also the recipient of funds from the Joyce Skinner Endowed Journalism Scholarship.
Armand and Eleanor Gebert Endowed Scholarship: Daylyn Huff, Brenet White, and Samuel Krahn
The namesakes of the Armand and Eleanor Gebert Endowed Scholarships have deep ties to journalism in the Motor City. Armand Gebert joined the "police desk" of the Detroit News, where he worked for 43 years.  Eleanor Breitmeyer joined the Detroit News' Women's Department, became Club Editor, and then became Society Editor. She and Armand met at the News and married in 1976. After Armand retired, he taught journalism at Wayne State for 10 years.
This year's recipients are:
Daylyn Huff
A broadcast journalism major who is minoring in both communication studies and new media.
Brenet White
Brenet White is a junior majoring in journalism with a focus on broadcast and a double minor in film and Spanish. In her free time, she says she loves to create in multiple ways: writing/screenwriting, filming, photography, fashion designing, and crochet. In the future, she says she would love to become a travel journalist and continue my interest in learning/appreciating different cultures and languages.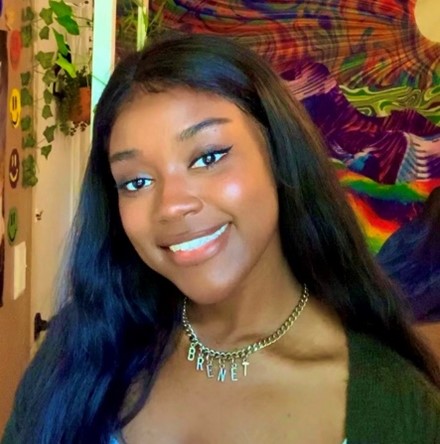 Samuel Krahn
Sam Krahn just completed his junior year and will move into his senior year at Wayne State University with a dual major in journalism and public relations this fall. He's spent the past year working as an automotive journalist at Muscle Cars and Trucks, but is gaining experience in his other major working as an intern at Lambert PR in Detroit. Apart from his studies, Sam is a member of the WSU Swimming and Diving team.
Robert W. and Louise A. Giles Broadcast Journalism Endowed Scholarship: Michael Aleksandrov
Giles had a 40-year career in Detroit television news management at Channel 4 and Channel 7. He earned a B.A. degree in Mass Communications at Wayne State University. This scholarship is named for Bob and his wife, Louise who had a successful career in newspapers, television news, and corporate communications. They said this scholarship reflects their deep interest in providing access to quality education and training for new leaders in broadcast journalism. This year's recipient is:
Michael Aleksandrov
Michael Aleksandrov is an incoming Broadcast Journalism transfer from Dearborn.  He currently works at the Birmingham, Michigan-based Woodward Sports as a Content Contributor. He says he has a deep passion for journalism, comedy, and the city of Detroit. In his free time, he runs a prospective non-profit called Be Your Own Ray that assists children and parents from single-parent households and difficult family situations. He is also the recipient of funds from the George M. and Mabel Slocum Scholarship in Journalism.
Joyce Skinner Endowed Journalism Scholarship: Allise Hurd, Shawntay Lewis, Ryan Schira, and Nataly Cortez
Joyce Skinner established this fund to recognize scholastic achievement, to encourage continued progress, and to assist journalism students in financing their education at Wayne State University. This year's recipients are:
Allise Hurd
Allise Hurd enrolled in the Broadcast Journalism program at Wayne State in the Summer of 2019.  She says a passion to interview potential guests and develop and produce interesting topics for on-air programs led her in this direction.  She says an internship at WDET for the Winter 2021 semester helped make this vision a reality.  She produced a segment on Detroit Today with Stephen Henderson, which aired April 19th about vaccinating the homeless population against COVID-19 in the Detroit area.  This experience has made her interests grow stronger in bringing important topics to the public through broadcast media.  After graduation she wants to enter the field of radio production.
Shawntay Lewis
Shawntay Lewis is an incoming freshman at Wayne State University in the College of Communications, Fine & Performing Arts. She will be majoring in journalism at WSU after graduating from Kalamazoo Central High School in June. She plans on interning at the local newspapers and news stations on, and off-campus. She is excited to be a warrior this fall and looking forward to her opportunities at the Department of Communications and Journalism.
Ryan Schira
An incoming broadcast journalism major who has an interest in sports. 
Nataly Cortez
An incoming freshman who is majoring in journalism.
W. Sprague Holden Memorial Scholarship in Journalism: Carter Barnes and Marissa Kalil-Barrino
This scholarship was established to honor Willis Sprague Holden, who first wrote for newspapers in Grand Rapids, Detroit and San Francisco, and from 1940 to 1946 for the Detroit Free Press.  Holden served as Chair of Wayne State University's Department of Journalism from its beginning in 1949 until his death in 1973. He was a prolific writer, contributing to newspapers and magazines. This year's recipients are:
Carter Barnes
A  journalism major.
Marissa Kalil-Barrino
A print and online journalism major who is minoring in Spanish.