Trejha Whitfield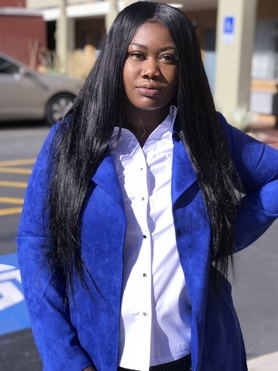 Graduate Teaching Assistant and Ph.D. Candidate
Biography
Trejha is a Ph.D. student and graduate teaching assistant. She is a Black feminist autoethnographer that also uses interviewing methods to center the lived experiences and narratives of Black women in her work. Framed by Black feminist thought and intersectionality, Trejha is interested in the effects of beauty standards on Black women's identity negotiation(s).
Degrees and Certifications
Wayne State University, Ph.D. – Detroit, MI.
Doctor of Philosophy in Communication (in progress)
Temple University, M.Ed. 19' – Philadelphia, PA.
Master of Education in Higher Education Administration (Student Affairs Leadership)
The Lincoln University, BA 17' – Lincoln University, PA.
Bachelor of Arts in Digital Communication
Primary Research Interest
Beauty & body politics (Black women's hair/natural hair)
Black women's representations in the media
Identity development, negotiation & expression
Black feminism
Recent Publications
Whitfield, T. (2022, in press). Jezebel Unhinged: Losing the Black Female Body in Religion and Culture, QED: A Journal in GLBTQ Worldmaking, 9(2).
Whitfield, T. (2016, October 20). One Month Later and Still No Grade. The Lincolnian. Retrieved from http://thelincolnian.net/one-month-later-and-still-no-grade
Professional Presentations:
"A Blackgirl Feminist Autoethnography: Black Women's Experiences with Beauty Standards & Hair" (November, 2022)
National Communication Association (NCA) Panel Presentation
"Community, Hospitality, & Culture in Jamaica" (2022, February)
2nd Annual Passport & Pastries
"Tan a yuh yaad abroad! Exploring attitudes on the reopening of Jamaica's borders in the wake of the Covid 19 global shutdown" (2021, November)
National Communication Association (NCA) Panel Presentation
"Cultural Identity of Black Hair Empowerment" (2021, August)
Welcome Black 4th Annual, Wayne State University
"Black Women's Hair Politics" (2021, May)
Guest Speaker at Graduate and Undergraduate student Psychology Lab Meeting, Wayne State University
"I'm American, In Jamaica" (2021, March)
Central States Communication (CSCA) Paper Presentation
"My Kinky Hair is Beautiful: An Autoethnography of a Black Woman's Identity Negotiation Through Hair" (2021, March)
Graduate Research Symposium (GRS) Wayne State University
Courses Taught
COM 1010 – Public Speaking
COM 2200 – Interpersonal Communication
COM 4140 – Popular & Celebrity Culture