The Wayne State University Green List
A designation of student excellence in screenwriting. 

WAYNE STATE GREEN LIST 2020 Nominees  
Be Good Do Well
John Trupiano
COM 2210
Brad, an exhausted office worker, decides to explore a new philosophy on life. Ryan, a cook, practices that alternative philosophy but begins to question it upon encountering his old friend.
---
Chasing the Bag
Derick Knox
COM 2210
Marcus Johnson, a former high basketball phenom, loses his basketball scholarship and returns to a neighborhood riddled with crime. Marcus and his friends take on the infamous drug dealer Big Face to take back their community.
---
The Android
Abigail Barnett
COM 5270
Ava's desire to belong in a divided world leads her to an unexpected ally.
---
Loose Onion
Lauren Duprey
COM 5270
A disgraced garbage lawyer is thrust back into fighting for trash justice when filthy criminals begin to wreak havoc on his beloved town.
---
Nirvette
Christian Klink
COM 5270
Freddie "Dee" Day and younger brother Conor have been surviving in Michigan's Upper Peninsula for the better part of ten years, following a nation-wide pandemic. One day the brothers stumble upon something that will alter their way of life forever.
---
The Inexcusable Herbert Gus
Monica Serwinek
COM 5270
Herbert Gus must preserve his legacy as the president of his cheese club, but during the cheese-off that determines his membership standing he dies of a heart attack. His soul is sent to purgatory where Herbert must battle the bureaucracy of the underworld for a resurrection before his legacy is forgotten.
---
Match of the Century
Guthrie Stormer
COM 5270
Sister Quabidy O'Raorbus must defeat the devious Father Bestish in a balancing match for the ages. To save her abbey from the villainous Peak Church, Quabidy must tame Orchenka, the beast within her very self.
---
Give Up the Ghost
 Jordan Dewitt
COM 5270
A recently deceased young man can't shake the haunting presence of the one who got him killed: his best friend.
---
Made Man
Reilly Weed
COM 5270
As he continues to climb the ranks within his crime organization, a young mobster must reevaluate what he wants out of life when he discovers his best friend is a police informant.
---
Sweet Potato Pie
Milan McLaurin
COM 5270
After losing her beloved Gram, nine-year-old Skye is determined to create her grandmother's famous sweet potato pie. When the recipe goes missing, Skye must go on a hunt to find it.
---
Crosses
Kelsey O'Brien
COM 5270
Norah, a stubborn teen from the Midwest, struggles to accept her sexuality due to her Catholic upbringing.
---
Deal of a Lifetime
Sebastian Rivera-Mendoza
COM 5270
Victor Estafa is a down on his luck salesman who looks to make ends meet by renting cheap furniture to low income families in order support his wife's cancer treatment. When the medication is no longer covered by his insurance, Victor desperately seeks to pay for the medicine by selling a stove that could have a high-risk safety hazard.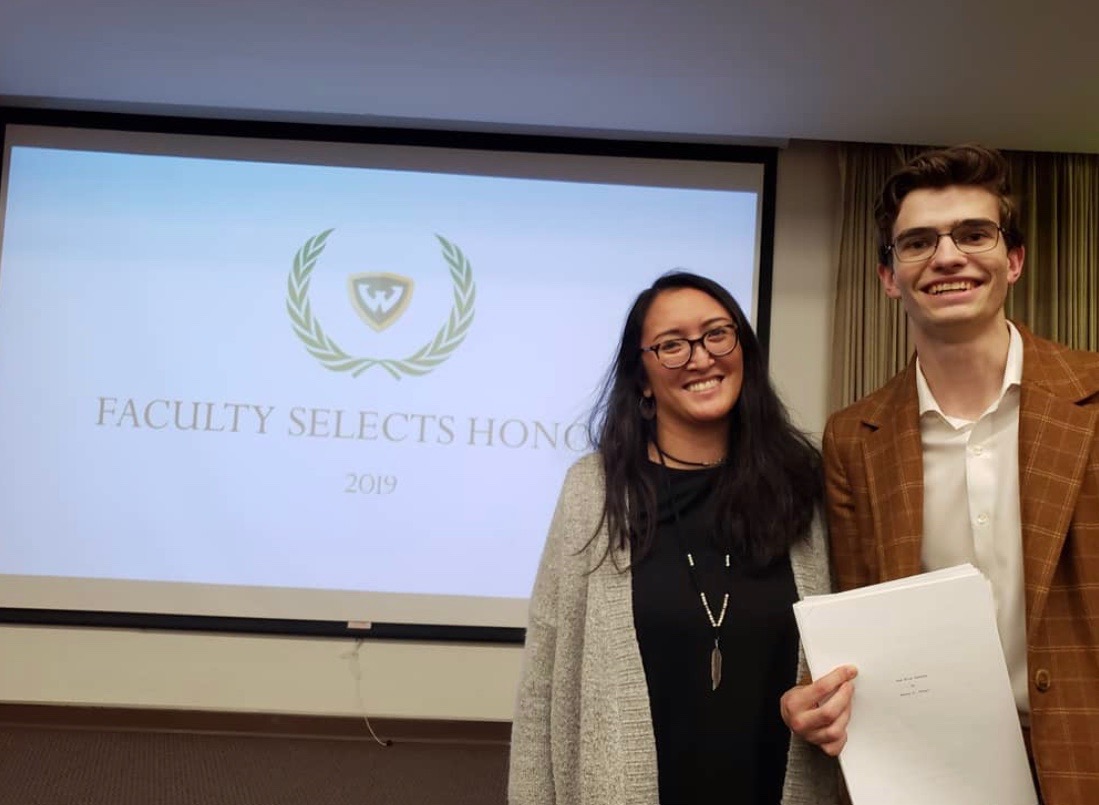 WAYNE STATE GREEN LIST 2019 Nominees  
The Bovine Bandit
Nicholas Rhein
COM 5270
Colin, a cattle thief and army deserter on his way to the California Gold Rush finds himself caught by a vengeful Marshall and his deputy. To escape, he forges an unlikely alliance and finds a kind of courage he's never had before.
---
Awake
Madelon Beatty
COM 2210
Nikita, a young woman estranged from her family, goes home to attend the wake of her beloved younger brother.
---
A Piece Of My Mind
Brenna Noyes
COM 5270
When sixteen-year-old Casey starts a new life with her father's family she questions the treatment of a classmate struggling with mental illness.
---
Blue Sash
Aaron C. Thiel
COM 2210
On a distant planet Francis, an idealistic young doctor on a mission to heal, learns of the costs of war and loyalty.
---
Constancy
Ni-Gea Summer Dufeal
COM 2210
After a trip to visit estranged family in Trinidad, 23-year-old Tara struggles to keep a literal transformation secret from her inquisitive boyfriend. 
---
A Roommate's Tale
Christian Klink
COM 2210
Grant owes local drug lord Taylor big time for screwing up another deal. To make up for it, Grant goes on assignment for Taylor and drags his roommate Donny along on the job.